Expos
Along Gould pine grove
The Handprints of Giants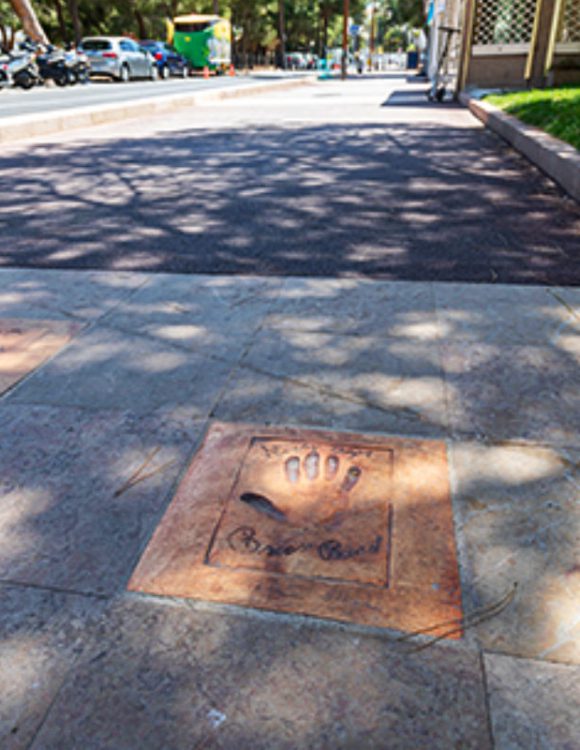 The Handprints of Giants
dev4admin
"Juan-les-Pins is more than just a stage, for me it's legendary, like Carnegie Hall is to classical music. When you step onto that stage, you follow in the footsteps of giants" John McLaughlin
A Mythical Jazz Festival
In the historic setting of the Gould pine grove (Pinède Gould), where the Antibes Juan-les-Pins International Jazz Festival, the dean of jazz festivals in Europe, takes place every year, "Jazz à Juan" is an integral part of French culture and heritage.
The footprints of the giants: the memory of the festival
Every summer, international jazz stars perform at Jazz à Juan, and 62 of them have left their handprints, which you can discover, embedded along this Jazz "Walk of Fame", which borders Pinède Gould..
From 1992 to 2000, the festival wished to immortalise its legends and 45 moulds were made. The prints were initially moulded in the Roger Capron workshops in Vallauris. You can place your hands in those of Ray Charles, Sonny Rollins, Claude Luter, Stéphane Grappelli, Archie Shepp, Oscar Peterson, Wynton Marsalis, BB King, Marcus Miller, George Benson, Keith Jarrett and Michel Petrucciani.
New handprints
In 2020, when the works around the pine grove required the renovation of the prints, the work was entrusted to Pierre Bruzzi in collaboration with the workshops of Edmond Guizol. In 2021, during the 60th edition of the festival, the prints were taken again. The prints of Avishai Cohen, Melody Gardot, Kenny Garrett, Gregory Porter, Michel Portal, Michel Jonasz, Ibrahim Maalouf and Robin McKelle were added. Each year, new handprints will be sealed to maintain the memory of Jazz.