Around the festival
Welcome, cataphobes !
In other words, if you have a phobia of new ideas, a fear of something new, then it can wait for another day. On the other hand, if you fear standing still, then it's time to take a wonderful trip to the land of sounds!
hroughout the summer, the city of Antibes Juan-les-Pins offers a whole range of cultural events, concerts, shows and art, as part of Summer Pop Art. Whether during the Jazz Festival or after it, the Tourist Office invites you to have fun … fun for the eyes by visiting the exhibition, fun for the ears by following the Marching Bands, rounding off your evening at the Jazz Club, or coming to discover the Jammin'Summer session groups. And other projects are currently under consideration.
Jammin'Summer session
The Petite Pinède in Juan-les-Pins & Bandstand, place Nationale, in Antibes
Free concerts as high-quality as they are varied to the delight of Jazz lovers. The set-up of these stages is simple, free … while chairs are available for use in front of the stages, you can also sit on the café terraces or in the Petite Pinède with your beach chair, blanket and picnic, while respectfully enjoying the work of the musicians, of course
A few words about these concerts:
The Jammin'Summer sessions aim to introduce you to emerging European Jazz groups. Carefully selected, these groups, generally made up of young musicians or sidemen, show a real desire to continue to bring jazz to life, that music without barriers that has continued to evolve throughout its history. The Jammin'Summer, like its big brother Jazz à Juan, programmes all jazz, all types of jazz, ranging from classic to electro. So bring your curiosity, come along and listen, see and applaud these young artists who will surprise, enchant, sometimes even get you dancing, and who will certainly be the stars of tomorrow.
The Petite Pinède stands at the corner of Rue Leonetti and Boulevard Baudoin in Juan-les-pins. The bandstand is located on Place Nationale in Antibes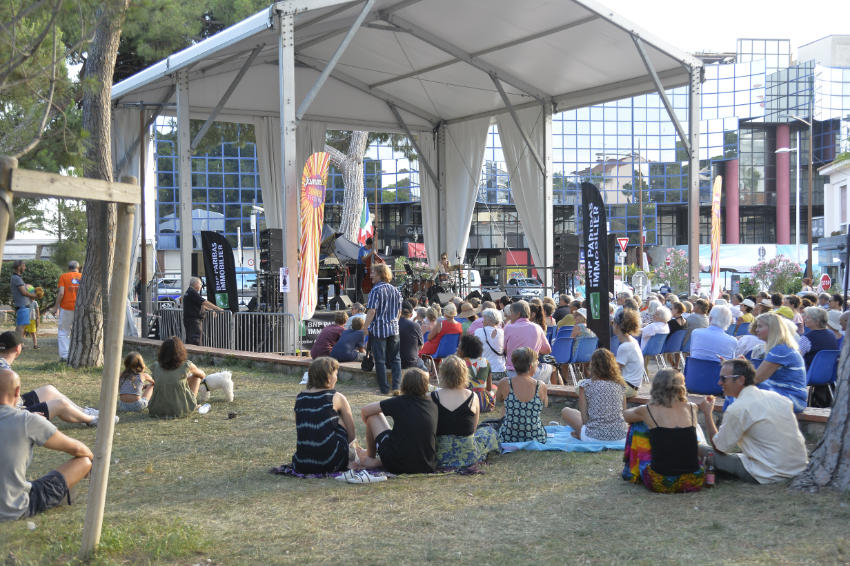 Jazz à Juan Experience
New in 2023!
Jazz à Juan means, first and foremost, two superb concerts from 8:30pm to 11:30pm!
But given the creation and the resounding success of our peaceful open-air snack area under the pines at the festival venue, enabling everyone to eat and drink to their fill, the organising team has chosen to take things one step further and offer, from now on, a real "Jazz à Juan Experience" which can begin right from 7pm and last until 1am.
And so, as soon as the doors to the Gould pine grove open, Jazz à Juan will offer everything you need to get your evening off to a great start.
Every festival ticket-holder will be able to take advantage, from the moment the doors are open, of the food trucks, tables and chairs beneath the pines while also enjoying the sounds of an atmospheric DJ, a game of pétanque (boules) between friends or other entertaining leisure activity currently under consideration…
And if, once the concert is over, you want to remain in this enchanting setting for longer: for the first time Jazz à Juan is offering an After-party organised on the beach. You will be able to appreciate a drink at the water's edge, to the rhythm of the waves and music. These after-parties are reserved for people with a ticket for that day's concert and having also bought an access to the "After", which costs 15€. This supplement includes a drink on the beach and the use of the VIP entrance "Provençal" to gain access to the festival venue. It will be possible to buy this supplement until the closure of the ticket office on the night of the concert subject to availability (limited to 100 persons).
On the agenda (the Afters will finish at 1 am):
10th and 11th July: Before and after – DJ Manu Boubli
12th and 13th July: En before – DJ Cheese / En after – Papatef
15th and 16th July: Forward and After – Mathieu Durand
18th, 19th and 20th July: Before and after – Lord Funk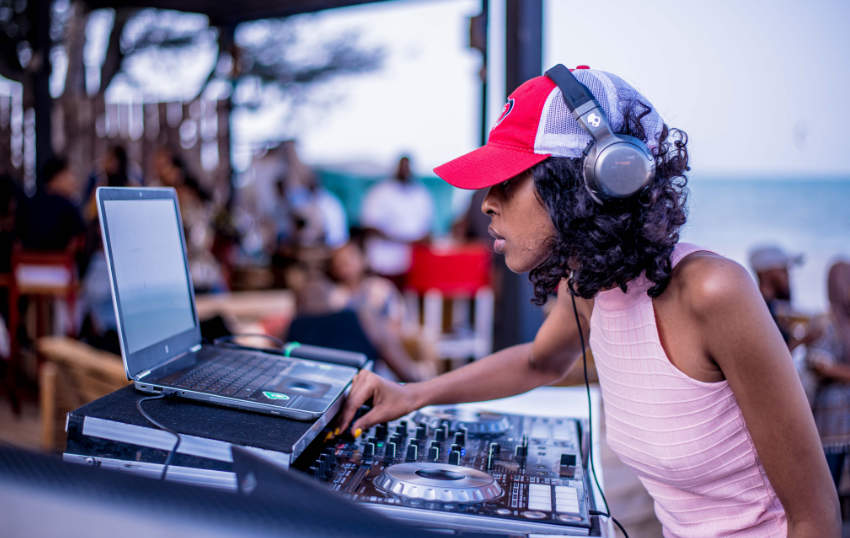 Marching Bands
Even before the 1st edition of "Jazz à Juan", the great original tradition of jazz music had already come to the streets of Antibes and Juan-les-Pins (who doesn't remember the images of Sidney Bechet's wedding in 1951?!). So, because "Jazz à Juan" has always combined traditional and modern, a major place is left throughout the summer for the region's Marching Bands.
In 2023
The marching bands follow a route:
In Juan-les-Pins: From the Palais-des-Congrès to the Rond Point Courbet (Courbet Roundabout) – 7pm to 8pm
In Antibes: From the Salles des Associations (Massena course) to Guynemer Square – 7.30pm to 8.30pm
Monday, July 10th in Antibes: R-SAJ Band
Friday, July 14th in Antibes: WARM UP Jazz Band
Monday, July 17th in Antibes: TROPEZ Quintet
Friday, July 21st in Antibes: GUGUS Band
Tuesday, July 25th in Antibes: ROOM BAZAR
Tuesday, July 25th in Juan-les-Pins: WARM UP Jazz Band
Thursday, July 27th in Antibes: R-SAJ Band
Thursday, July 27th in Juan-les-Pins: ROOM BAZAR
Tuesday, August 1st in Antibes: WARM UP Jazz Band
Tuesday, August 1st in Juan-les-Pins: GUGUS Band
Thursday, August 3rd in Antibes: TROPEZ Quintet
Thursday, August 3rd in Juan-les-Pins: JAZZY DIXIE
Tuesday, August 8th in Antibes: GUGUS Band
Tuesday, August 8th in Juan-les-Pins: R-SAJ Band
Thursday, August 10th in Antibes: WARM UP Jazz Band
Thursday, August 10th in Juan-les-Pins: TROPEZ Quintet
Tuesday, August 15th in Antibes: JAZZY DIXIE
Tuesday, August 15th in Juan-les-Pins:R-SAJ Band
Thursday, August 17th in Antibes: R-SAJ Band
Thursday, August 17th in Juan-les-Pins: WARM UP Jazz Band
Photo exhibition: IsraeliJazz by Raphaël Perez
July 10th to August 23rd, 2023
With a background as an executive in Internet Industry (SAP, Check Point, Lotus, Startups), Raphael Perez is an experienced author, and photographer in editorial lifestyle, with main practice distributed globally as a live-music photographer.
In 2018, he started a project about Israeli jazzmen and started to write a book, prepare a digital platform and series of photo exhibitions and conferences.
The bookwill include biography and photos for 80 artists. It will explain how the jazz started in Israel in the 1930s; how it grows over time and how the Israeli jazz landscape is today (Schools, venues, festival, …), explaining the success of today.
IsraeliJazz project has already been exhibited in Tel Aviv in October 2022 and in Paris April/May 2023.
The book will be released globally in Sep 2023 and available in French and English.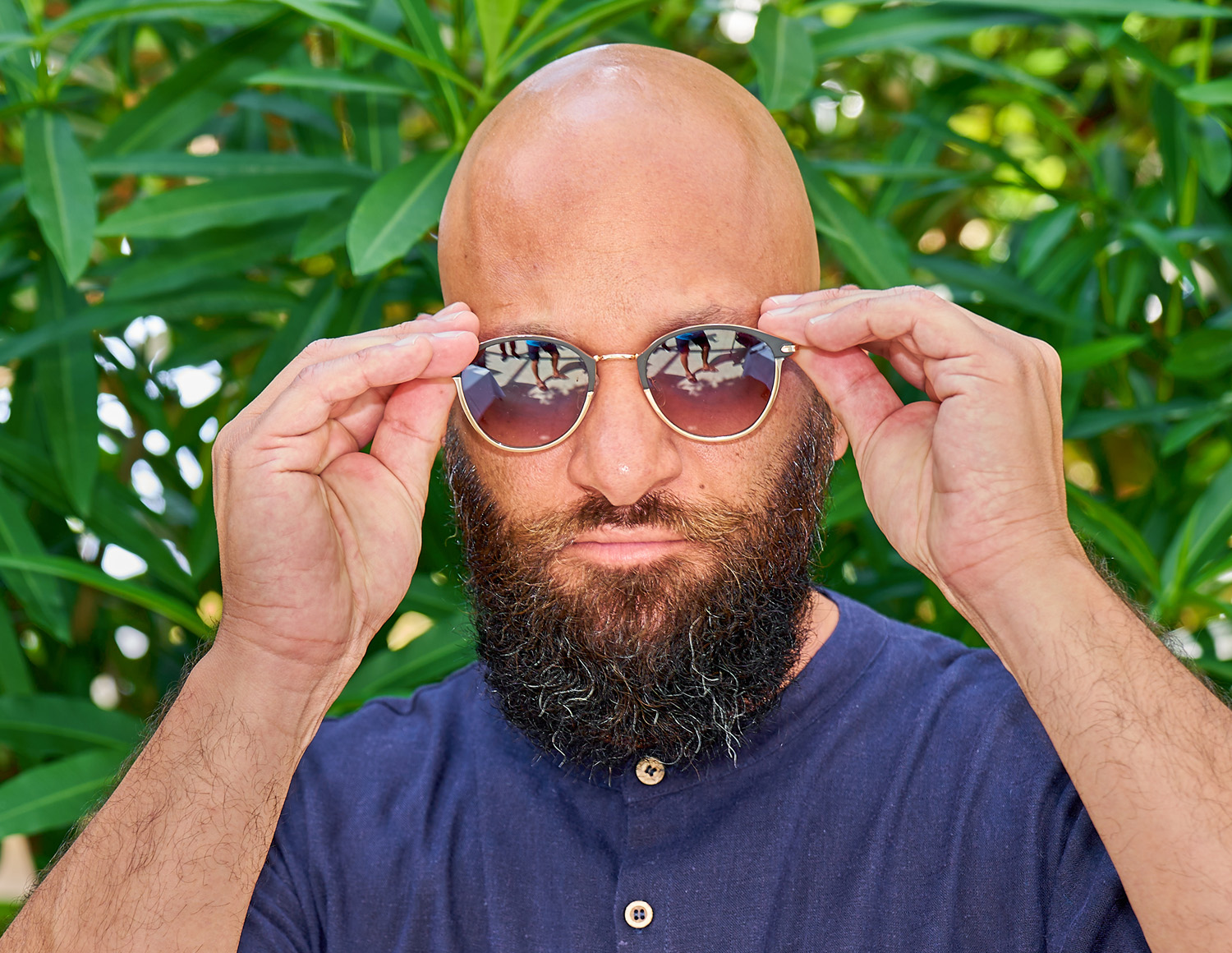 The Jazz Club
During the festival, from 11.00pm to 1.00am, after each Jazz à Juan concert, you'll find the Jam Sessions led by a group, at the Jazz Club of the Hotel Ambassadeur, Chemin des Sables, Juan-les-Pins.
In 2023, Niels Indjein and his 2 musicians will come to animate the Jazz Club.
The concert is free but it is strongly recommended to reserve your table.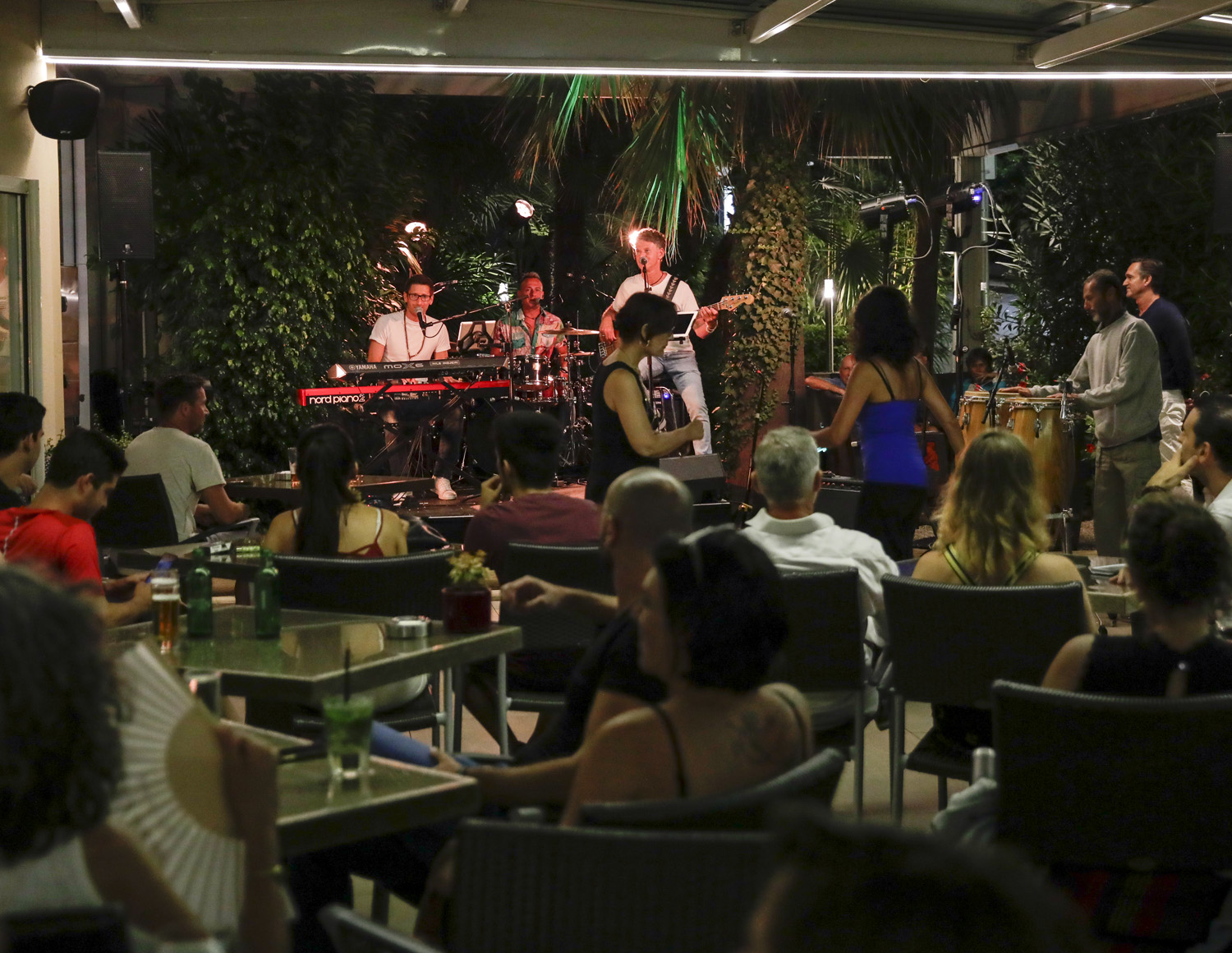 The Handprints of Giants
Every summer, international jazz stars perform at Jazz à Juan, and 62 of them have left their handprints, which you can discover, embedded along this Jazz "Walk of Fame", which borders Pinède Gould.